Symptom Management in Advanced Cancer
Fourth Edition
ISBN: 9780955254734
Author:
Robert Twycross
Andrew Wilcock
Claire Stark Toller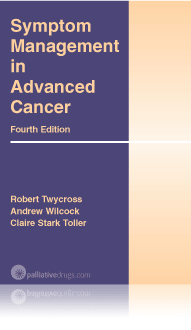 SMAC4 is now out of print and there are no current plans to reprint. However, look out for the updated and extended edition of Introduction to Palliative Care which will be published within the next few months.
What People Say
A masterly work: clear, concise and practical.
Age and Ageing
A masterpiece…an essential book.
Geriatric Medicine
'Without doubt the best of the numerous offerings on this subject. It is up to date, the information flows logically and the reader acquires concrete information in a few minutes. I have no reservations about recommending it.
Oncology in Practice
Should be within arm's reach of all clinicians involved in the management of patients with advanced cancer.'
Palliative Medicine
Every general practitioner, hospital doctor (medical and surgical) and especially oncologist and palliative care physicians should have this book on their shelf.
British Journal of Hospital Medicine
Sample Chapters